I just got a nice review of my
Iron Man
adaptation and thought I'd share it.
Here's the URL:
http://www.bookgasm.com/reviews/sci-fi/capes-cowls-costumes-hey-kids-books/
You have to page down a bit to see the actual review.
But, in case you'd rather just check this blog entry, here's my cut 'n' paste of the review itself: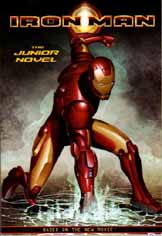 This summer's IRON MAN was, in my opinion, one of the best comic book movies made — certainly my current favorite, replacing the reigning champ of SUPERMAN: THE MOVIE after 29 years. The beauty of the film — besides pitch-perfect acting and characterizations, seemingly effortless special effects, and the tight package in which it is all wrapped up — is the simplicity of the story: a man brought down by his own ego finding redemption through service to the world. The subtlety of his unfolding salvation provides the adult viewing experience that drew all those hundreds of millions dollars to the box office. For the young 'uns, it was the coolness of a guy who's been knocked down by bullies, but gets back up to fight back and win.
And that's how it plays in IRON MAN: THE JUNIOR NOVEL by Stephen Sullivan, featuring eight pages of photos from the film. Sullivan is faithful to the screenplay, while downplaying many of the too-grown-up motivations that might confuse his younger readers. It is, as I say, a good story and difficult to ruin, and Sullivan brings the right tone and style to keep things moving at a brisk pace that should keep even the kids who have seen the movie enthralled.